FREE WALKING TOUR KATHMANDU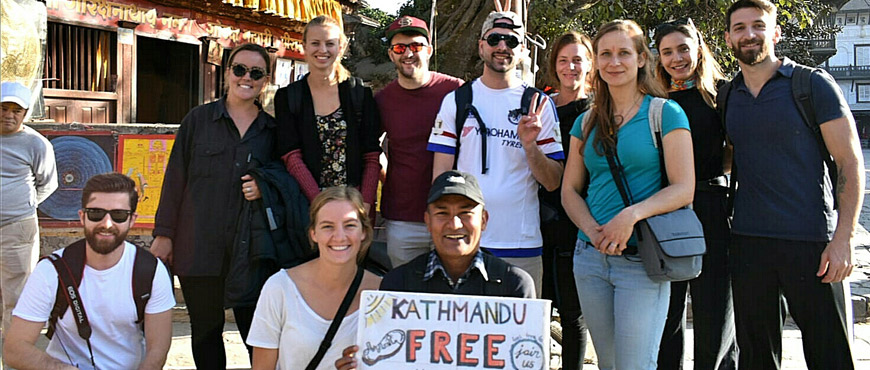 Free Walking Tour in Nepal is an entirely new concept. All the trekking, tour companies are still operating the paid tours in old styles. Many licensed holder city tour guides work for the paid tours. But Himkala Adventure Pvt. Ltd., situated in Thamel, Kathmandu is an exception. It is a leading trekking; Tour Company officially organizes FREE WALKING TOUR KATHMANDU for a year has got an amazing feedback from the highly satisfied guests.
Free Walking Tour Kathmandu is almost like a full day tour because it takes 4-5 hours and covers southern part of Thamel, local Hindu shrines, Newari residential areas, Buddhists stupas, monasteries, bustling local markets, northern parts of Kathmandu Durbar Square, local cremation place, holy river and finally to the Monkey Temple.
Free Walking Tour Kathmandu is run by Shiva Dhakal, a government certified guide, trained from Nepal Academy of Hotel and Management (NATHM), Rabi Bhawan. Mr. Shiva Dhakal is a local expert who has been guiding for 20 years. He has been dedicating to experience his experience about local people, their way of living, cultural practices, rituals, traditions, beliefs, myths, stories, norms and values, history, architecture, iconography, archeology, and politics.
Free Walking Tour Kathmandu starts at 9 am in the morning and 2 pm in the afternoon from the front gate of Garden of Dreams, which is 10 minutes east from the center Thamel. Free Walking Tour Kathmandu of course is not a paid tour but is a tip based tour. If you are happy with the tour and guide's way of explanation, you could tip at the end of the tour.
If you are interested to know more about other tours, hiking around Kathmandu valley, round trip, trekking and the tour to Nepal, Tibet, Bhutan, India, please you could visit our website: www.himkalaadventure.com
Please kindly confirm your FREE WALKING TOUR KATHMANDU in the following email write message in Himkala Adventure Facebook Page or Free Walking Tour Face Book page.
Email: [email protected]
Phone No: +977 9841376470

Why is Free Walking Tour Kathmandu for?
Get close to a Newari residential area and their way of living.
Be familiar with Golden period of Nepal i.e. Malla period's art and architecture
Witness typical Bajrayana Buddhist tradition, their practice, worshipping and celebrations
Explore typical Newari courtyard, Bahi, Biharas, and Monasteries
Visit Tibet Monastery and observe their way of doing prayers and chanting mantras
Walk through the heart of bustling local market and see typical Nepali handicrafts, souvenirs, thankas, paubhas, beads, Nepali fabric, copper pots, sari shop, Nepali spices etc.
Visit around Freak Street where there was a flow of hippies in 60s.
Be in the sight of Holy River named Bishnumati River like Ganges in India where local people cremate their dead bodies and throw in the river.
Hike uphill through 424 steps (Before the renovation, there were 365 steps) to the Monkey Temple and have stunning valley view, adjacent hills and sun set.
Some of the prime attractions of our FREE WALKING TOUR KATHMANDU
Newari Residential Area:
We take our guests through the Newari residential area, showing them the houses and the lifestyle of the local Newari population. Newars are the class which is generally involved in business and trade. A walk through the lanes shows some of the oldest Newari houses which luckily survived the disasters of the earthquake.
Kathe Swoyambhu:
The Kathe Swoyambhu is one of the many embodiments of how different religions and cultures coincide in peace in Nepal. Not only is it very photogenic, it also serves as a great place to learn about Hindu, Buddhist and Tibetan cultures all at one place. There are small stupas around the main (albeit miniature) stupa which have symbolic paintings on them. Like many other sites, this is also undergoing construction.
Local Lassi:
Our guests tried the local lassi near the glass bead market. Made with sugar, churned yogurt and garnished with dried fruits and concentrated milk (khuwa), this is a drink that is a must try! It's freshly made and is very refreshing. One small glass costs NPR 40 and the bigger glass costs NPR 70.
Glass Beads market:
The glass bead market is a spectacle to look at. It is a local, wholesale market which sells these iconic green glass bead necklaces which is given to the bride after marriage. Although similar looking at the first look, some shops offer unique designs. This offers a green pop of color in the tradition red sari worn by the bride during the wedding.
Monkey Temple:
The Swoyambhunath Temple is often called The Monkey Temple because of the hundreds of monkeys can be seen there. They are not violent, but they do have their natural defenseman mechanisms when they feel attacked.
The temple had 365 steps before the earthquake, signifying the 365 days of the year. But, after undergoing re-construction, one has to climb 424 steps to reach the temple. The temple stands on a very aesthetic site, overlooking the valley of Kathmandu. One can shop souvenirs from there or simply witness the majestic skyline of Kathmandu. The stupa also has a lot of symbolic significance conveyed through the carvings and paintings.